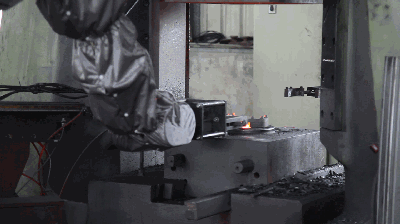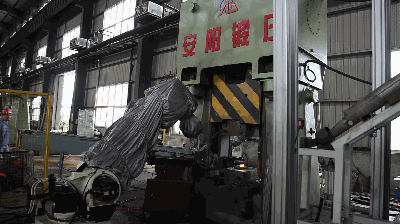 Working characterisitics of CNC forging hammer
Forging hammer is impacting machine, it has a greater vibration in forging process, in order to decrease its vibration to environment, all CNC forging hammers are equipped withe spring damper.


The arrangement of multi-mode cavities on forging hammer is quite flexible, maybe not arranged in an order, so it will bring some difficulties to the automated production.
Functions and features of CNC hammer or modernized CNC hammer
Hitting energy of each step is program controlled.
CNC hammer is communicated with the manipulator reliably.
CNC hammer is equipped with reliable ejector and automatic lubrication mould device.
Some parts can be done closed forging on CNC hammers, not only improves the accuracy of forgings, but aslo easy for the automation.
Above are what necessary requirements of CNC forging hammers for automation
Process requirements for CNC hammer automation
Complex pre-forming process, such as rolling, drawing, clamping, bending etc should be done on other automated machines such as roll forging machine, cross wedge machine, forging presses and so on.
More steps on forging hammer is not good, just 1-2 steps will be better.
It is difficult for the top ejector to work well on forging hammer, so usually design the forgings ejected from bottom ejector.
The die cavity of light forgings such as connecting rods and hand tools is shallow, in order to avoid the forgings jump from the cavity, two robots are used to hold forgings, in the way of setp by step beam for automated production.
The design of bottom ejector should ensure the forgings not dislocation and tilt after ejected.
Sometimes, it 's necessary to design the extra parts for the manipulator to grasp.
Automation Forging Line Videos
CNC Forging Hammer Automatic Forging Line Working Video
CNC Forging Hammer Automatic Forging Line Forge Gear Blank
Forging Hammer and Robot Automatic Forging
Automatic forging hammer production line make metal tools